In 1804 the enslaved black people of Haiti overthrew the French rule and ended slavery on the island nation of Haiti. French planters left their sugar plantations on the island and fled to New Orleans bringing with them some of their personal slaves. These black slaves from Haiti brought with them a powerful message, the story of a successful revolt by the enslaved against their masters, which ended in freedom and self-government.
On January 8, 1811, a slave revolt led by Charles Deslondes swept Destrehan's Plantation. The insurrection began at the plantation of Manuel Andry in St. John the Baptist Parish. Slaves attacked Andry wounding him and seizing any weapons that could be found.
The revolutionaries marched downriver recruiting additional slaves as they headed towards New Orleans. By January 9th, word of the revolt reached down river plantations, and residents fled to Destrehan Plantation for safety. On January 10th, a detachment of troops under the command of General Wade Hampton encountered the revolutionaries at Fortier Plantation, present-day Jefferson Parish, City of Kenner.
The rebel force split into three groups, some going north toward the lake, others upriver with Charles, and the rest downriver. The downriver group was stopped at Ormond Plantation, and the upriver group was stopped in Kenner at Henderson Plantation. At 4:00 a.m. Saturday, January 12, 1811, in the swamps behind the Picou and Trouard Plantations, Charles was captured and brutally killed by detachments led by Deslondes, his owner, and Picou.
Judge Pierre Bauchet St. Martin appointed Jean Noel, one of three tribunals. Among the executed slaves, Gros and Petit Lindor, 30 years of age, and Jasmin, 45 years of age, were from Destrehan's plantation.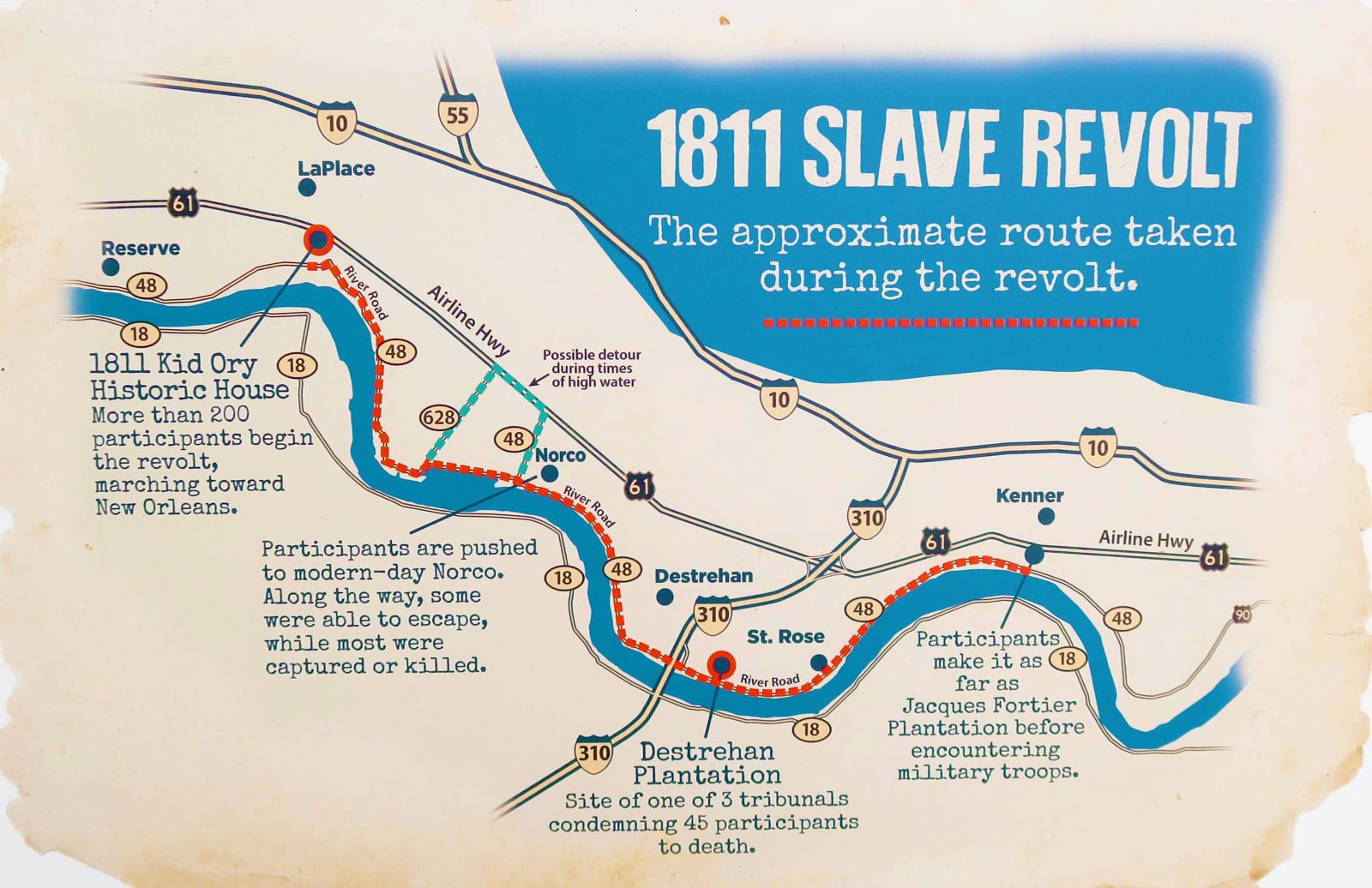 You can learn more about the 1811 Slave Revolt by visiting our newly renovated exhibit located in our Miller-Haydel Museum.
| History of The Enslaved | The Enslaved RegistryBook a Guided Tour
All artwork on the 1811 Slave Revolt exhibit at Destrehan Plantation is by local folk artist Lorraine Gendron.